Dr. med.Simone Ruppert-Willcock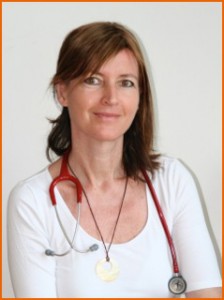 I have a wide and varied experience as a paediatrician. I have previously worked in two childrens hospitals, run my own practice and helped in other countries in Africa and Asia where the people have only very limited access to medical services. These experiences together with the insight into other medical systems such as traditional Chinese medicine and Homeopathy has influenced my working methods.
The foundation is always conventional medicine. However, frequently complementary medicine (Homeopathy, TCM, natural medicine) can provide a useful addition, and indeed for some specific conditions a better alternative therapy – naturally always after discussion and agreement with the parents.
RESUME
Studied Medicine at the Friedrich-Alexander-University Erlangen, Germany with the last practical semester at the Greenwich Hospital in London
6 year specialisation training in children and adolescent medicine at the Childrens Hospital St. Hedwig, Regensburg and the Childrens Hospital in Coburg
Studied for diploma for tropical medicine at the Bernhard-Nocht-Institut, Hamburg.
Worked for Doctors for the  third world as a  paediatrician in Mindanao, Philippines and for the Hamburg Tropical institute in Kumasi, Ghana
Ran own Children's practice for five years  near to Stuttgart
Completed three year study of traditional Chinese medicine at the Witten-Herdecke University
Completed three year study of Homeopathy in Freudenstadt and Stuttgart, completing the official examination to qualified homeopathy practitioner
Worked as a paediatric specialist in a maternity clinic near to stuttgart since 2010
Member of the professional association of children and adolescent doctors, the German association for children and adolescent medicine and the central  association of doctors for natural medicine